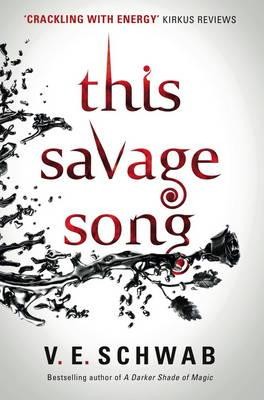 There's no such thing as safe
Wow!
It was a while ago that I read this book but even now I still can not believe how good it was. I had been in quite the reading slump of 3 star books and it was getting a tad disheartening reviewing them. It was not that they were bad books they just weren't books for me. I am all for people trying to read books that are out of their comfort zones and I was trying to this a lot more and it was not always paying off.
This Savage Song could not be more up my street if it was written just for me. Fantasy in all the right places and one of the cleverest premises I have read for while. I loved the characters of Kate and August - not to mention the fact the book successfully avoided the YA craze of insta-love (huge bonus points here).
In Verity monsters are real. Not only are they real but it is human acts of evil that create them. Three different types of monster exist and it depends where you live to how safe you are and how safe you feel. Kate lives on the side ruled by her father and August on the side governed by his. There worlds collide and they must work through their differences to work together to fix the corruption.
All the emotions. Honestly I think I could wax lyrical about this book for days - the writing is sensational. I have wanted to read a book by Victoria Schwab for a while and for some reason just had not gotten around to it. Now I feel I will devour everything she has written. Her style of writing for me was effortless. Easy to read and to follow which I think is incredibly important in fantasy fiction. I found both characters really beguiling and although Kate had that annoying feisty devil may care female lead role I found August made up for that in being an interesting male lead. A classic 'just one more chapter' book and a great read for someone who likes a good suspense thriller - cliffhangers all around please!
I have no idea what to expect from the sequel and I am both nervous and looking forward to it.
Go on just one more chapter