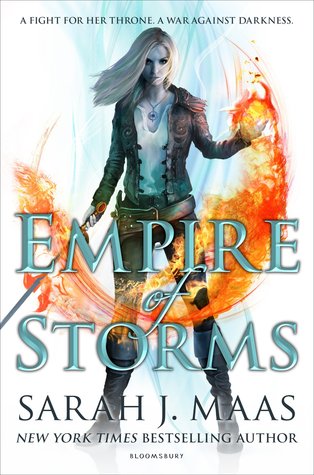 A fight for her throne. A war against darkness.
The fact I was dying to get my hands on this book is an understatement. I literally adore the Throne of Glass series. I recommend it constantly because I just find it so engaging.
So the fact that installment number 5 was out was fantastic. I loved the Queen of Shadows but when I finished it I was desperate for the story to continue as Maas' writing was riveting.Empire of Storms was not quite what I expected. Returning us to a world with the same brilliant, witty, pithy and sarcastic characters that have a lot of bark and a lot of bite was amazing I relished reading the story trying my best to figure out what the end game was going to be.
We pick up where Queen of Shadows left of. Aelin is heading to Terrasan with her court of Rowan the Fae Prince, Aedion her cousin and Lysandra the Shifter. Dorian is now King of a crumbling Kingdom and Manon the Blackbeak Heir is still deciding her and the Thirteens place in the coming war. I found many things in this book I had to re-read just to make sure I was absorbing some of the complex twists and turns properly. Some chapters I felt I was missing something but really it was that Aelin herself had not put everything together yet either, in typical Aelin fashion she was savouring the twists to get the best reaction.
The more this book enfolds the more you realise that there has been a lot happening that we have known little about. I love the character of Elide, there is a scene in the book that literally had tears streaming down my face - I had wanted that scene for a long time and it was sensationally written with just the right amount of depth. Maas had my heart in the palm of my hand.
Sadly I had seen a lot of comments about things in the book that although didn't give spoilers hinted at things that made me quite paranoid throughout the story and had me second guesses a lot of the time which was frustrating.
The only negative and it is quite a big one for me was it was a bit heavy with the sex scenes. Literally nearly all the characters were having a sexual relationship of some sort at some point and it felt like it was done for the sake of it. They were not all necessary for the development of the story and it became a tad predictable when pairings in the story were going to be together. I wanted more about the actual war, the purpose of the characters and their destinies than whether they suddenly had a desire to have sex. Tagged onto this is the physical appearance of all the characters, there is only so many breathtakingly attractive characters a story needs and I feel this book might have over done it a tad.
On the whole though Maas has delivered another great installment that although not my favourite story continues the tradition of creating a pacey, intriguing and surprising story. For the first time in ages I did not re-read the series prior to reading this book again - massive thanks to
Reviews from a Bookworm
for her in depth review of Queen of Shadows that got me back up to speed!
I was so torn with what to rate this! I love the characters and the plot but I felt a lot of the actual story was lost because of the focus on physical relationships.