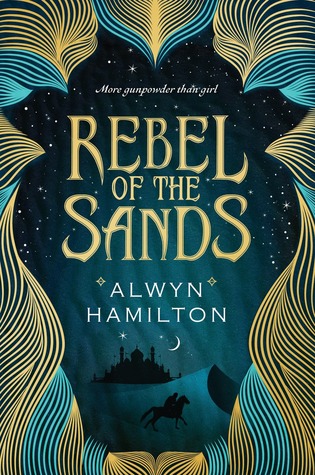 A New Dawn, A New Desert
Having delved into some books well outside my usual fantasy comfort zone and not quite enjoyed the experience, I decided to have a brief return to the genre.
Step in a book that had me from the first chapter. From the moment Amani stepped onto the scene I knew I was a goner. This book was effortless to read, a clear just one more chapter experience. I had to keep stopping myself reading just because I could easily have devoured the book in no time at all.
The story in a nutshell is about Amani and her desperate desire to leave her life in Dustwalk. Her mother is dead, by hanging no less, for the crime of murdering her husband. Amani has to suffer the humiliation of living with an Aunt who despises her and with no real idea who her father is. She has had enough, to her friend Tamid she has been joking about leaving for years but now with her mother gone and the threat of being married off to her uncle Amani realises she has no choice to escape. Then Jin turns up and turns everything around.
It goes without saying that I love fantasy fiction and I am especially partial to a cleverly constructed world - think Sandersons' Mistborn series. I love when an author manages to construct a new reality that I believe easily and without finding fault. The middle-eastern desert world of Miraji is just that. Believable, with it's guns, arranged marriages, sexism and rebel princes whilst being fantastical with the Djinni and First Beings. These elements combined make for an exceptionally believable backdrop. The fantasy elements really work as they are well woven into the culture in the nation. Now it has a teeny tiny western feel to it. However, sand, horses, shooting contests and a few guns do not make a book a western. So if you are expecting a cowboys and gun toting western this might not be for you.
Surprisingly I really enjoyed the romance element of the story. I have heard a few people argue that there is zero chemistry between the two main characters. I personally couldn't disagree more. The heat between the two is palpable. Yes Jin is a blatant love interest within the first ten seconds of his introduction but this is typical of a lot of YA at the moment. Thankfully blatant love interest or not the word love isn't bandied about at all so it is not a case of love at first sight. Secondly the way in which Hamilton writes the two sizzles with chemistry and makes there attraction believable and a very enjoyable aspect to the story.
Alwyn has successfully managed to weave a story full of action, suspense, romance and depth and yet it is only 350 pages. For me the book gets very character heavy towards the end and this is possibly my only negative. I know that Amani and Jin's journey was incredibly relevant but personally the introduction of the other characters added a necessary new dimension and I would have preferred to meet them all a little earlier in the story.
A brilliant debut and sizzling series opener